About Us
Vectis Marine Design was established in 2008 as an independent marine consultancy specialising in the design and technical support of military, professional and commercial vessels and small craft.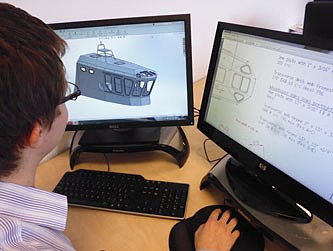 Vectis Marine Design's two principal Naval Architects together have more than 45 years' experience in the marine industry. Prior to establishing Vectis Marine Design, Dr. Andrew Humphries was Design Manager with VT Halmatic for 7 years and John Fox-Robinson was Principal Naval Architect for 6 years.
Our team is made up of capable and experienced Naval Architects, Mechanical Engineers and Marine Design Engineers. Our office is equipped with modern hardware and software to enable us to carry out all aspects of marine design and engineering including Computational Fluid Dynamics (CFD) and structural Finite Element Analysis (FEA) software.
We offer an independent and confidential service to clients. We have proven experience of designing and supporting vessels for the UK Ministry of Defence (Royal Navy, Royal Marines and Army), UK Border Force and military, professional and commercial operators worldwide.
Our office is near Southampton, on the UK south coast, close to Southampton airport.
Vectis Marine Design is a Corporate Partner of the Royal Institution of Naval Architects. A member of British Marine.